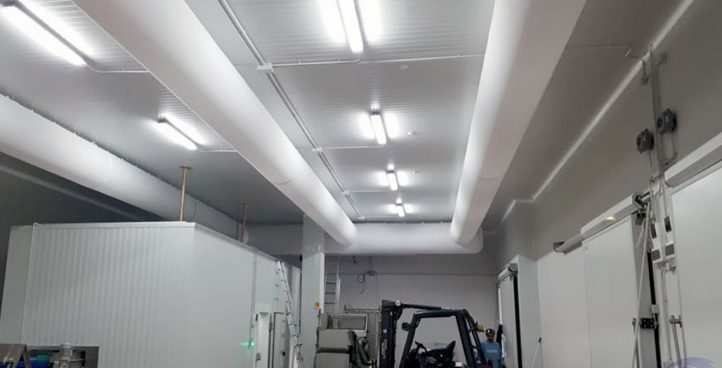 INSULATED COLD ROOMS
Formation of isolated enclosures for the storage of refrigerated or frozen foods at an industrial level, among other applications. Different types of industrial panel with various insulations (polyurethane, rock wool, etc.) tailored to the needs of the product. Assembly by tongue and groove, allowing quick tightening and perfect alignment of the refrigerated area. Wide variety of access systems, pivot doors, sliding doors, swing doors, guillotine doors, sectional doors, canvas doors, etc.
It meets the strictest thermal insulation requirements of the agri-food industries and allows the creation of production, processing and packaging premises; refrigerated and chemical warehouses; storage of pharmaceutical industry, etc. Special solutions with certificate of fire resistance even in temperatures below zero.
MANUFACTURING
COLD ROOMS modular or customized with our own technology and engineering for any type of application, sector and business. Our specialty is providing our clients with enclosures and their refrigeration specifically adapted to the products to be preserved and the precise requirements of each type of business.
We build refrigeration facilities adapted to the current needs of the industrial and commercial refrigeration market. Ask us and we will help you establish the characteristics of the cold room you need.
COLD ROOMS WITH DIVISIONS
We design and carry out the lining of premises, including divisions, which can form food handling rooms, industrial cold rooms, kitchens, work rooms, etc. incorporating the accesses to the different rooms through the appropriate doors (refrigerating, swing, service, fast, etc.), all with the advantages of having the rooms thermally insulated and a perfect finish that complies with health regulations. Ideal for generating cold and refrigeration for a food industry and for all those that require compartmentalization and customization both in structure and in temperature.
Do you need a cold room? Request a budget without commitment